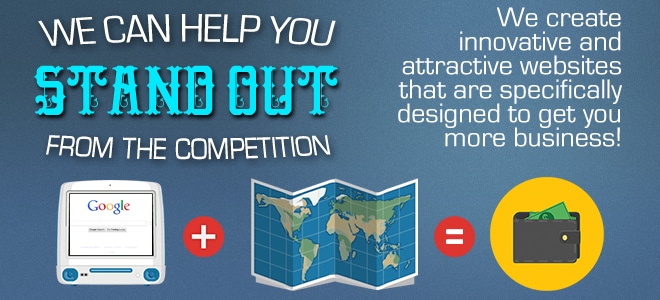 Wilmington NC Web Site Design and Development To Make Your Business Stand Out
IF YOU ARE:
In Need of a New Website
Sick of Your Current Website
Aiming to Increase Online Sales
On the Market to Get New Customers
Looking to Boost Your Website Traffic
Trying to Spread the Word About Your Services
Interested in Getting Ahead of Your Competition
Striving to Look Better Than Your Competitors Online
We can help you. Call Us Today (910) 338-5802!
If you said "yes" to any of the above, then call us today! We are a local web design and online marketing company that specializes in bringing innovative solutions and creative ideas to life on the internet. We are professionals in the art of web design and masters of boosting business through the creation of online media. So if you're looking for a new website or to enhance your existing one, you've come to the right place!
Today, what we have to offer you is a custom web site solution designed and developed just for your business! We don't use templates, premade graphics or anything you'll find on your competitors' sites. We DO NOT outsource our work. Every project is handled right here in our North Carolina office by in-house employees.
If you are, or have ever been, interested in a new online presence, we're the company for you.
Don't forget: We're a Certified Google Partner which means Google not only thinks we do a good job, but they trust our work.
Not convinced? We know it's easy to make empty promises on the internet. So why not give us a call at (910) 338-5802 and let us show you what we can do first-hand?
{chronocontact}webdesignformilm{/chronocontact}
Categorised in: Main
This post was written by admin