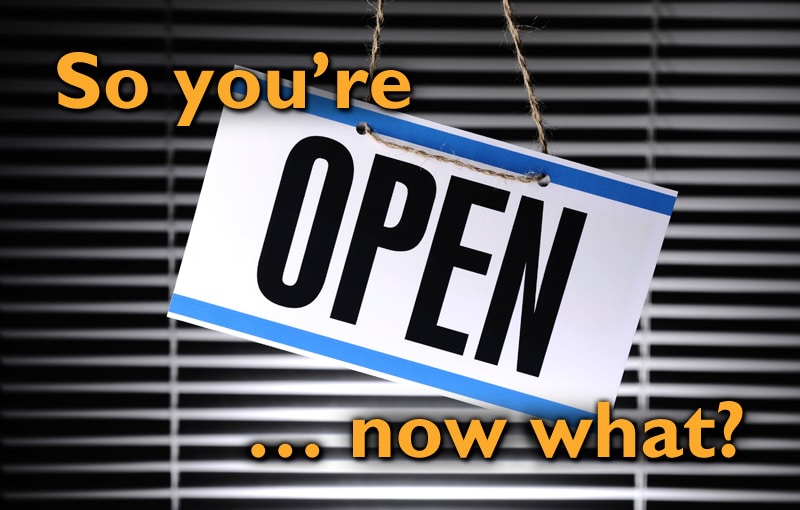 Online marketing: Where should you begin?
You just started a small business – congratulations! You have a passion and are ready to provide customers with your products or services. And while the business you own may be small and up against well-known competitors, the potential is there for it to be the leading company in the area with an ever-expanding client base!
As an online marketing company, we know how well businesses can take off using the right marketing tools. If you're new to the game and have no online presence established yet, you may be wondering what to do first. Here are some suggestions:
Sign up for social media networks
A survey of 600 small business owners across the United States indicates that 90% are actively engaged in social networking sites. In an even more telling statistic, 74% perceive social networking as just as valuable, if not more valuable, than networking in person. Think about what social media networks will be the most effective for your business. Most companies engage 3 or 4 networks, the most popular being Facebook, Twitter, and LinkedIn. Depending on your services, you may find that certain social media fit your business better. For instance, if you are an attorney, you might want to share videos about topical legal issues on YouTube. If you're a custom surfboard maker, you might post images of your creations on Pinterest. Most social media networks are free, so there is nothing preventing you from joining your customers in the online conversation.
Have a website for your business
Having a website for your business is important as a means of establishing credibility. If somebody hears about your company, they are going to immediately look for a website to find out more. If they can't find out anything about you after a few searches, there's a chance they might think you're not legitimate and give up. There's no reason to risk that, especially when your website doesn't have to be a huge, sprawling, Webby Award-winning masterpiece. It can be as basic or as detailed as you like, as long as it includes answers to the five most common questions:
 Who are you?
 What does your business do?
 Where are you located?
 Why should a customer choose your company?
 How do they get in touch with you?
Mobile optimize your website
One day soon, almost everybody will own a phone or tablet that will access the internet. (As of January, 58% owned a smartphone and 42% owned a tablet.) You should prepare for that eventuality and make sure your website is optimized for mobile devices. Your website looks different on a tablet or an iPhone than it does on a desktop or laptop. When it's not optimized, it can be hard for visitors to navigate through your site and find the information they're looking for. When that happens, they become frustrated and go somewhere else (read: your competitors) for the services or products they seek. The easiest solution is to have a mobile site created at the same time (or right after) your desktop website is ready.
Try paid online advertising
Have you ever been searching for something on Google and seen related ads appear at the top or side of your search? Those are pay-per-click (PPC) ads, and they are very successful at helping businesses reach new customers. Google Ads (previously AdWords) is an advertising program that allows you to specifically target online customers through keywords tied to your advertising message. Your ad can appear hundreds, even thousands, of times, but you are only charged when someone clicks on the ad to visit your website or clicks on your phone number to call your office, store or shop. You can also use PPC advertising on Bing/Yahoo. If your business is just starting out with a small client base, then pay-per-click advertising may be your solution to gaining new customers quickly.
Improve your search engine optimization rank
The purpose of SEO is to improve the visibility of your website to those who are looking for your products and services. You increase your visibility by gaining higher position in search engine results for search terms that are relevant to your business. Ways to improve your SEO can include regular blogging, updating your website content, researching keywords and phrases being used to find your services and managing your local business listing on Google+, Bing, Yahoo, etc. The more you optimize your website for popular search engines, the higher your business will climb in relevant searches.
Let WordwrightWeb be your online marketing experts!
There is always more you can do to improve your company's online presence. Luckily, you don't have to do it on your own! WordwrightWeb has worked with many start-up companies to help them cement their image online. If you are ready to get your business name out there, we can help! Give us a call at 910-452-6345, or get in touch with us by visiting our contact page.
Updated: 10/26/2023
Categorised in: Online Conversation
This post was written by admin