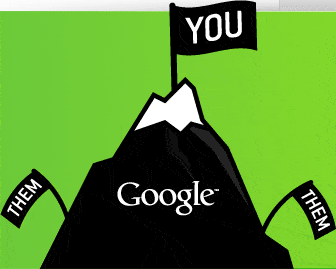 Harness the power of SEO
August 7, 2012 3:29 pm
Leave your thoughts
Harness the power of SEO
This is the second installment of our three-part series focused on Search Engine Marketing (SEM). The first installment discussed Google Adwords, which is paid advertising that appears at the top and along the sides of search engine results. We are now going to discuss search engine optimization (SEO). You have probably heard the term bounced around, maybe even attempted a bit of it yourself. If you are looking to improve the success of your business with increased online visibility, there is no time like the present to learn just what SEO is and how it can help you scale the Google Mountain.
What is SEO
SEO is a collection of techniques used to construct your website so it performs better in search engines for keywords and keyword phrases related to your business. The goal is to get your website to the top of the results for relevant search queries. As you are certainly aware, having your website at the top of the page is critical to success in the online marketplace. Searchers click on the first or second result of a search query 54 percent of the time and 89 percent of clicks are from first page results. It literally pays to have a website that performs well in search engines.
Google's trickle of information
Google is constantly making changes to their search engine algorithm and they never make public exactly how they determine search results. Luckily, they do offer bits and pieces of information to provide guidelines or best practices. The importance of their ranking factors changes with each algorithm change, but general guidelines allow you to optimize your site for better search engine visibility. Google respects authority, so they give preference to sites they feel are not only relevant but authoritative in regards to specific searches. This is where optimizing your website can benefit your business.
Benefits of SEO
Increased visibility
A successful SEO campaign can get you to the top of search engine results where those actively seeking your product or service can easily find you. Google statistics show that 80 percent of users head straight for the organic search results (non-paid results). While advertising online is important, SEO can get your site in front of those 80 percent who pass over the advertisements.
Higher return on investment
Another great benefit of SEO is that you can scale back your efforts once you get to the top of the mountain. This leads to a high return on your marketing investment. Unlike online advertising, outside of your investment in the optimization efforts, you don't pay for those visitors clicking on the link to your site. Additionally, compared to traditional advertising methods, SEO offers a better ROI due to its ability to more accurately target potential customers.
A better website
SEO improves not only your search engine performance but also your website as a whole by improving the user experience. This leads to higher conversion rates and more sales.
Better performance in local search results
It is also much easier, now that Google has instituted their Local campaign, to target local consumers. Google has local business listings they have created for local businesses in accordance with Google Maps. Originally called Place pages, these listings are now referred to as Google + Local listings. An optimized main site can improve the performance of your local business listing.
Drawbacks of SEO
SEO takes time to work and requires a continued effort to be successful. Because Google holds authoritative sites in high regard, it takes a while to build that authority. You may see some improvement in the early stages, but significant benefits generally take weeks or months to show themselves. It can also be difficult to supplant entrenched competitors in the first few positions. This is one reason for combining SEO with Google Adwords, which works immediately, for a total search engine marketing effort.
You can continue to reap rewards after completely stopping your SEO efforts; however, it will not last forever. You may be able to scale back efforts at some point, but you will still need to continue SEO efforts on some level to remain successful.
Successful SEO
Successful SEO is not about tricking Google, but about making your website better. It involves improving the elements within your control and managing those that are somewhat beyond your control. There are on-page factors, over which you have direct control and off-page factors over which you have limited control.
Google thinks in terms of relevance, website authority and the user experience. To show your website offers this, there are characteristics of your site that can be improved. There are believed to be over 200 ranking factors used by Google, so detailing them is not feasible; however, there are some general factors that carry a great deal of weight. They include:
Fresh, unique content
Optimized title tags
Links (inbound, outbound and internal)
Social media interaction
Keyword rich domain names
User friendly site navigation
Taking care of these elements will show Google and other search engines that your site is relevant, authoritative and offers visitors a quality experience so they quickly and easily find what they are searching for.
Unfortunately, the "if you build it they will come" notion does not work in today's competitive online marketplace. It is essential to market your website if you want success, and search engine optimization is one of the most powerful tools you have to do so.
If you are tired of seeing your competitors' websites above yours in search engine results, give the WordwrightWeb team a call at (910) 452-6345. We would love the chance to discuss your options and develop a search engine optimization plan that works for you.
Categorised in: Search Engine Optimization
This post was written by Steve