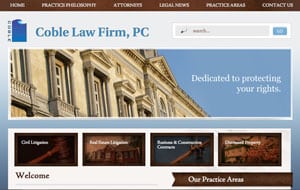 You need a mobile site today
March 25, 2012 10:33 pm
Leave your thoughts
You need a mobile site today
Very soon, more people will access the internet from their smart phone than from a desktop computer. How soon? Some statistics predict 2014; others say 2015 or 2016. Currently, it's about 25% of usage.
The exact point at which the trend lines cross doesn't matter nor, really, do statistics. The
better method for spotting media trends is to pay attention to your own habits, those of your friends and, perhaps most importantly, those of your teenagers and their friends.
The bigger message is this: You should have a mobile version of your website now. If not, you might be missing out on potential business. Users are too impatient to wrestle with your desktop website on their smartphone. And so are you.
What's the best way to play on the mobile? One lower-cost approach is called adaptive design (or responsive design). It displays the same website differently on a desktop browser, a tablet such as the Apple Ipad, or a smartphone such as the Android or Iphone.
Take a look at this example:
www.coblelawfirm.com
. Open the site on your desktop computer and then on your smartphone.
You'll see two very different views. In fact, on the smartphone, the page headings take you to different subpages, in some instances. Notice how the smartphone version presents Call Us and Find Us as the top options. The presumption is that a person searching from the phone is in their car or otherwise away from the office. Clicking once on Call Us activates the phone dialer. Clicking on Find Us activates the GPS Maps application.
Two other approaches are mobile apps (applications) and separate mobile websites. Let's address apps first.
Mobile apps
A "mobile app" is a sexy term. It's cool to ask viewers to "download our mobile app." It's also significantly more expensive to create – at least 3 times more expensive. And you are, in fact, asking the site visitor to take the very inconvenient steps of downloading, installing, and then launching the app (and sometimes rebooting your phone).
Apps are appropriate for bigger players who are adding substantial functionality to a smart phone. Our local TV stations have apps, as do takeout restaurant chains, some banks, insurance companies, sports leagues and others. In general, if the company is ubiquitous (you've heard of it), it might be appropriate to bother with its app. Conversely, companies that are not household names should stay away from apps.
The second alternative is mobile site versions. These are actually separate websites, or an
alternative collection of web pages, that presents itself when accessed from a mobile phone. Usually it has a related subdomain. Look in your mobile browser's address bar. If it says www.mobi.geico.com or www.m.nfl.com, it's a separate website.
These can have additional benefits over an adaptive design, but are generally twice as
expensive or more. And beware of the wave of providers, whose names you've never heard of, offering you a "free" mobile website. These are hosted on the scamster's server and will have a URL such as www.geico.mobitoday.com (notice the difference in sequence). Such an approach is diluting your search engine page rank and potentially harming your brand if the site doesn't display properly or disappears. The site might even be supported by unrelated banner advertising.
For most business professionals, an adaptive design approach is the right answer. Since these can be created even for existing websites, you should contact your web professional today for the upfit.
Special thanks to Attorney Stephen Coble of The Coble Law Firm for permission to display his website.
Categorised in: Getting Creative
This post was written by Michael Byrd