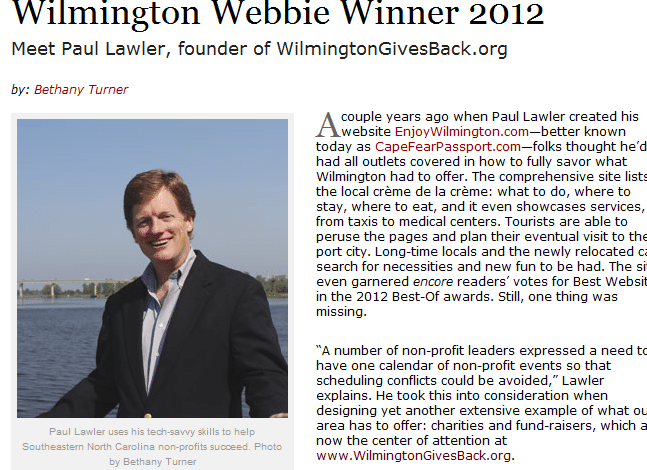 Wilmington Gives Back wins Webbie Award
September 11, 2012 6:16 pm
Leave your thoughts
Wilmington Gives Back wins Webbie Award!
And the 2012 Webbie Award goes to….Wilmington Gives Back! Encore Magazine readers chose WilmingtonGivesBack.org as the 2012 Webbie Award winner for its website that connects non-profit organizations and supporters in Wilmington and surrounding areas. WordwrightWeb is proud to have helped Paul Lawler, founder of Wilmington Gives Back, with building this website that offers so much to the communities of southeastern North Carolina.
The site offers aid and recognition to non-profit organizations as well as their supporters, clients and customers. Launched in the summer of 2011, Wilmington Gives Back offers a way for organizations to reach more potential supporters and increase traffic to their sites. The site includes a search feature that allows visitors to search for organizations with which they may have an interest. Want to help out with an issue important to you? Want to become more involved with business and civic groups in your area? Want to know what fun events are happening this weekend, this month? The Wilmington Gives Back website provides access to these organizations and much more.
The site is open to everyone. Lawler explains, "Wilmington Gives Back is here to help the non-profit community succeed, and it's free. If you represent a non-profit and it's not included on the site, just [visit us] and you can add your organization. It's very inclusive with charities, arts groups, educational groups, political parties, history clubs, unions and chambers of commerce—and every other kind of non-profit in our area."
If you would like to read the full Encore article, just follow the link below.
Categorised in: Random
This post was written by Steve