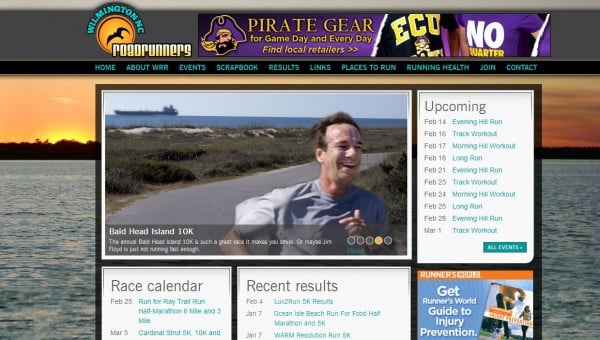 The Wilmington Road Runners Club website launched
February 20, 2012 6:17 pm
Leave your thoughts
The Wilmington Road Runners Club website launched
For avid runners in the Wilmington area, WordwrightWeb has a website for you. We have just launched the brand new website for the Wilmington Road Runners Club. The site has everything a running enthusiast needs. Information about upcoming events, unique places to run in the area, race results, course records, as well as running health tips are all readily available on the new site.
Founded in 1977, the Wilmington Road Runners Club is one of the oldest continuously operating clubs in North Carolina. Their 250+ members run the gamut from speedy racers to occasional joggers, bonded by the simple pleasure of putting one foot ahead of the other on the roads and trails of New Hanover County… and beyond.
The Wilmington Road Runners is always accepting new members. If interested, you can join online via a quick, convenient form. Once a member, you will receive email updates on upcoming events, and your membership card will get you a 10% discount on most purchases at Omega Sports. Your membership fee also automatically makes you a member of their umbrella organization, the Road Runners Club of America (RRCA).
The goal of their new virtual home is to not only provide information for prospective and current members, but to also create an online atmosphere of community and sharing. Members can take part by adding photos of events to the scrapbook, suggesting places to run in the area and sharing running advice.
Charles Buckland, Membership Chair, seeks members who truly enjoy being a part of the Wilmington area running community. He says, "The WRRC is your Club, if you choose to make it so. We encourage contributions to the website, suggestions for new running or social activities, volunteering to help at local road races, and your presence at our open Board meetings."
If you are interested in joining or just want to take a peek at the new site, feel free to pay the Wilmington Road Runners Club a visit.
http://wilmingtonroadrunners.org/
Categorised in: Random
This post was written by Steve