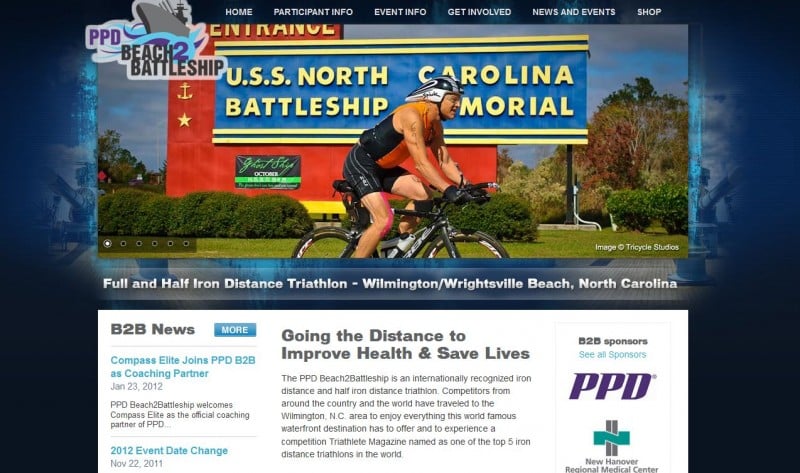 PPD Beach 2 Battleship website launched
February 6, 2012 6:30 pm
Leave your thoughts
PPD Beach 2 Battleship website launched
We've launched another one! Our newest website launch has us truly beaming with pride. The PPD Beach 2 Battleship iron distance and iron half-distance triathlon now has a new website to promote their annual event. Competitors from around the country and the world have traveled to our beautiful city to experience a competition Triathlete Magazine named as one of the top 5 iron distance triathlons in the world.
The races bring notoriety to our city as well as athletes from around the world for the four day event. PPD supports the event as its title sponsor to give back to the local community and to educate the public on the vital role clinical research and participation in clinical trials plays in the delivering of new medicines that improve health and save lives. All of the event's net proceeds are contributed to the Wilmington Family YMCA.
In addition to the donation of the event's net proceeds, there is also the PPD Hero Award. PPD celebrates the stories of everyday heroes who have overcome life-threatening illness – by participating in clinical trials – and today are iron distance triathletes competing in the PPD Beach2Battleship Triathlon. From the site, you can watch videos of past Hero Award winners as well as nominate someone for the award.
The websites features a slideshow of amazing photos taken live during the event. The site provides information on how to register, race results and course information. For those arriving to the event out of town, there is information about local attractions, parking, accommodations, directions and traffic hotspots to avoid while races are in progress. You can also purchase tickets for the event through the site as well as shop around for clothing and gear.
If interested in becoming involved in the PPD Beach 2 Battleship event, you can use the website to volunteer, become a fundraiser, or a business sponsor. Not only are we proud of this site because of its striking appearance and functionality, but also because it promotes a wonderful event that gives so much to the community.
If you would like to know more, you can check out the site here.
Categorised in: Random
This post was written by Steve