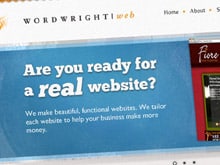 Outer Banks Web Design
February 18, 2014 3:27 pm
Leave your thoughts
Outer Banks Web Design – Also Serving Elizabeth City
At WordwrightWeb, our team of web designers creates functional, visually stunning websites that exceed client expectations each and every time. No design templates here! All of our websites are custom-designed specifically with your needs, goals and vision in mind and driven by the purpose of growing your business or organization. Give us a call at 540-818-6663 and we'll be happy to help you get a Real Website.
Results-Driven Web Design and Development
We are a custom web design company with the focus of delivering results. A WordwrightWeb designed site highlights your message and is easily navigated by your visitors so they quickly find what they are looking for and return again and again. We have a long history of working with the businesses and organizations in the Outer Banks area to tackle the internet marketplace and make it an avenue for growth rather than something to fear.
Website Design That's Easy to Edit
Your website should not be a static creation that only a computer programmer can edit. We create websites so you can quickly and easily change to keep it up-to-date. The content management system for your website will be easy to use, and we provide a hands-on tutorial to get you started. Not only is updated and fresh content important for your website visitors, but it is crucial for superior search engine performance.
Our Web Design Portfolio
A look at our portfolio will reveal websites for doctors, lawyers, dentists, manufacturers, realtors, non-profit organizations, e-commerce businesses and much more. We not only provide professional web design and development in the Outer Banks, but also surrounding areas including Elizabeth City.
We love new ideas and new challenges, so give us a call at 540-818-6663 and tell us what you envision for the development and growth of your business.
Categorised in: Main
This post was written by Steve