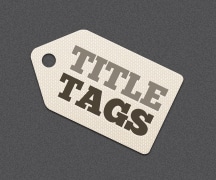 Good Title Tag Practices Enhance Search Engine Optimization
Good Title Tag Practices Enhance Search Engine Optimization
Title tags, also known as title elements, are the second most important on-page SEO item next to website content. You see them everyday when browsing the web, but you may not have realized what they are or how important they are to marketing a company. The purpose of a title tag is to explain what a webpage is about based on two to three relevant keywords. They define the page. Most of the time, you will also see a company's name/brand included in the tag. Title tags are found in three places: Search engine results, web browsers and external websites. To recognize and refresh your memory, this is how they appear online:
Search Engine Results
Tags appear as the titles of websites in search engine results.
Web Browsers
When a site (page) is visited, the tag appears at the top of the browser and in browser tabs.
External Websites
Social media websites, for example, will typically use a website's title tag as its link anchor text.
Correctly Using Title Tags
If you do not make your own title tags for your website, they will be created for you – and believe me, that is not a benefit! When they are just auto-created for you, title tags are not in the correct format; they can be lengthy and most noticeably, may not make any sense. If you want well-written, effective SEO rank and results, then follow these three important guidelines.
1. Title tag descriptions should be written using relevant keywords. Keywords within title tags might be the most important place they can be because search engines will bold/highlight them in results where searchers use them in their queries, which greatly increases visibility. Keep in mind that each page you make a title tag for should reflect the main service/idea that page offers.
2. A good format to follow when creating a title tag looks like this:
Primary Keyword | Secondary Keyword | Brand Name
The closer the main keyword is to the beginning, the better. The primary keyword is the first thing searchers read about your page in search engine results. Make sure it's what you want them to see first, as this can make or break their decision on clicking through to see your page.
3. Tags should be around 70 characters. That does not mean they cannot go past 70 – we personally make tags that go as much as 74-75 characters. However, when tags start to be over 75 and getting closer to 80 characters, there is a good chance part of the tag will be cut out and not shown in search displays.
Need Help Creating Title Tags?
Looking for more information about good search engine practices? WordwrightWeb offers full SEO services including the creation and revision of website title tags. Get in touch with us or give us a call at 910-338-5802 to improve your marketing results!
Categorised in: Search Engine Optimization
This post was written by admin