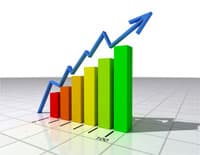 Are you wasting your advertising dollars?
June 20, 2012 4:52 pm
1 Comment
Are you wasting your advertising dollars?
The average consumer is bombarded by 5,000 marketing messages each day. How many of those 5,000 messages do you remember? We have "evolved" to the point that we tune out most advertisements. There is also the remote control and the DVR. TV commercials cost thousands of dollars and so many potential customers skip right over them.
What is the solution for business owners? The answer is simple: Pay more attention to your online brand.
Traditional media giants are falling
The internet has taken on the traditional media giants of print (newspaper, magazine), radio, and television and is doing quite well. Television is still the most widely viewed medium, according to December 2011 statistics, garnering a 42.5 percent share. The internet is now second with a 36 percent share, passing both radio and print combined. However, online advertising dollars are still lagging behind. Even though internet usage makes up 36 percent of media use, it gets only 21.9 percent of the advertising dollars. Print media, which has only a 6.8 percent share, gets 24.7 percent of the advertising dollars thrown its way. Why?
There are still many business owners reluctant to put money into online advertising, either because they do not yet trust it or don't understand it. They are holding on too tightly to the past and are in jeopardy of being passed over by their competitors. It's not too late to join the party. Don't be one of the businesses left behind.
The game has changed in your favor
Wouldn't it be great if you could save money on your advertising by having your television or radio ad run only in those homes that were actively looking for the product or service you are selling? Think how much money you could save on advertising by not having to blanket the entire population of your city or region.
Marketing your product or service is no longer held hostage by the idea that you have to cast a wide net to catch a few fish. The wider the net, in marketing terms, the higher the cost for you. The game has changed and to your benefit. You can use a much smaller net with online marketing methods and still catch plenty of fish.
This is not to say that TV, radio and print advertising is a waste of money and should be abandoned. It means it is time to rethink the distribution of your advertising dollars.
Marketing online is more than just having a pretty website
Marketing your business online does take work, discipline and know-how. A good-looking website that is user friendly is only the first step in the marketing process. The internet is simply too crowded with your competitors. You have to stand out. This means a comprehensive web marketing strategy that integrates social media, blogging, e-newsletters, online business listings and online advertising.
While this may sound like a lot of things to accomplish, the cost is generally less than for traditional advertising. Internet marketing methods generally provide a better ROI due to their ability to specifically target new customers and better track results.
If you would like to learn more about what you can do specifically to increase your top line, please give WordwrightWeb a call at (910) 452-6345. We can develop a plan to fit your goals and budget.
Don't forget to like us on Facebook or connect with us on LinkedIn to stay up to date on the latest happenings with Google as well as important online marketing developments that affect your business.
Categorised in: Search Engine Optimization
This post was written by Steve