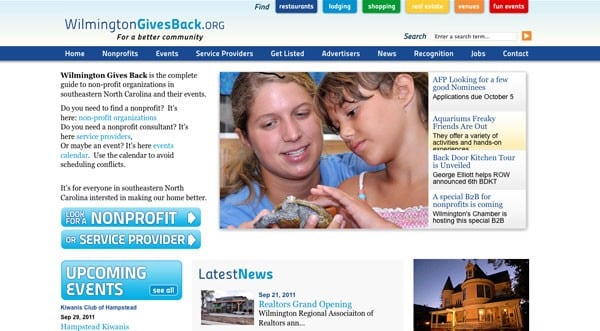 Wilmington Gives Back
November 10, 2011 6:35 pm
Leave your thoughts
A new website is now available that puts volunteers and those needing services in touch with available nonprofits in the Cape Fear region.

WilmingtonGivesBack.org is the brainchild of Paul Lawler. The idea came to him, he says, when friends who ran nonprofits asked him if their events could be listed on another of his websites, Whatsonwilmington.com.
"When I started looking at the local online event calendars, there just wasn't anywhere appropriate to list a lot of these events. Most of them were tourist-related in nature, about purely recreational things to do in the area. There was also a problem for nonprofits from the planning standpoint. For instance, you wouldn't want two health nonprofits or two arts organizations to have fundraisers at the same time, simply because there was nowhere for the event planners to double-check for conflicting dates. Something needed to be done, and so that's when my idea for a nonprofit information clearinghouse came into being."
The site is already gaining ground among its intended audiences; 365 nonprofit groups have been featured on the site so far and the list is growing. Part of the attraction is an extensive event calendar, with results filtered by date and time, as well as type of activity.
You can search WGB for nonprofits within the 10 counties comprising southeastern North Carolina. You can also find local providers who assist nonprofits with services such as accounting and promotions.

The listings act as mini-websites for groups who don't have their own website yet, and can increase the traffic for those who do via a link. Listings include a description of the organization, photos and contact information. All the listings, both for the directory and calendar, are free to nonprofits.
An ancillary benefit some groups have discovered is the opportunity for free, targeted public-relations dispatches. "We're starting to see organizations send their press releases and news items into WilmingtonGivesBack.org. These show up on the Latest News blog, in the slideshow or on the Facebook page. The website is getting the word out about the breadth and value of the nonprofit community," says Lawler.
One of the best aspects of the Latest News blog is that it gets info directly to the audiences most likely to be interested. It acts as a news hub, which is particularly valuable to the time-crunched nonprofit worker or supporter who wants to keep up with items of interest without having to parse multiple sources. (An even more time-saving device for keeping current is the email newsletter, which sends all the latest nonprofit headlines directly to your inbox. For the ultimate in streamlined content, users can tailor the news they receive by selecting their particular areas of interest. To sign up quickly and painlessly online, go to WilmingtonGivesBack.org/category/news)
WilmingtonGivesBack.org also offers nonprofit job listings. This database gets the word out to potential candidates quickly and efficiently, and at no cost to the nonprofit.
Even with all of the site's features, Lawler isn't resting on his laurels. "The response has been greater than I could have imagined. With over 350 nonprofits, and over 800 individual contacts already signed up, it's clear that people were looking for a website like this. The information is getting to the people who need it, and together, with the ingenious nonprofit community we have here in southeastern North Carolina, we will continue to make information even more accessible and useful."

Categorised in: Random
This post was written by Hillary